Is it time to install a new boiler in your home? A new boiler is a large investment, so it is important you decide on the right model for your home. The three main types of boilers you will come across are combi, conventional and system boilers, each with their own pros and cons.
As well as this, you will hear about condensing boilers. As of 2007, all boilers are required to be condensing, as it is much more efficient. Not only is this better for the environment, but it also helps to save you money!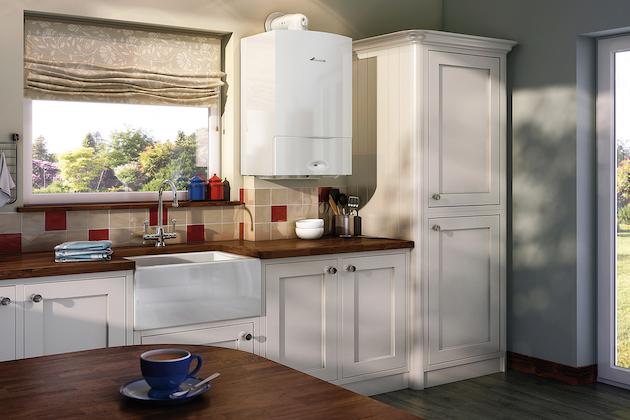 Conventional boilers
Conventional boilers operate with two water tanks, which will be located in your loft space. They can meet a very high demand for hot water, making them best suited to larger homes and big families.
Pros
Can meet a high demand for hot water
Hot water is available form several taps at once, without affecting water pressure
Doesn't rely on good mains pressure
Compatible with regular solar water heating systems
Cons
Requires the most loft space
Hot water needs time to heat up before it can be used
When you empty the tank, it needs to refill and reheat
Heat can be lost while the water is stored in the tank unless it is well insulated
System boilers
System boilers only require one water tank for hot water. As a result, they require less space than conventional boilers, while still have many of the same benefits. They can also meet a high demand for hot water, so are great for large homes and large families.
Pros
Can meet a high demand for hot water
Doesn't require two water tanks so saves some loft space
Can be compatible with solar water heating systems
Doesn't rely on good mains pressure
Multiple taps can be used at the same time, without affecting the pressure
Cons
Water needs to heat up before use
When the cylinder is emptied, it needs to refill and reheat
Combi boilers
Combi boilers only require the boiler unit itself and no sperate components. This makes them ideal for smaller homes with less available space, although they struggle to meet a high demand for hot water. They work directly from mains water, heating water immediately when you need it.
Pros
Requires no loft space
No need to wait for your hot water to heat up in a tank
Very cost effective and efficient
Cons
Relies on good mains water pressure
running several taps at once may affect water pressure
Will struggle to meet a high demand for hot water
Need a new boiler in Northampton?

We install new boilers across Northampton, East Hunsbury, West Hunsbury, Grange Park, Wootton Fields and Towcester. Our gas engineers have years of experience and all the correct training, so you know you'll be in safe hands when you come to Terry Burgin Plumbing & Heating. For more information, give us a call on 07709 191923 / 01604 675485 or email us at terry@terryburginplumbing.co.uk. We hope to hear from you soon!
EndFragment